Welcome to our traditional Christmas Living Room!   I'm so happy that the decorating is done and we can share our home with you!  Come on in to the living room and take a look around.   But first, maybe it's a good idea to pause for a moment under the mistletoe?
Our living room is a good size but has a funny layout that makes furniture arranging difficult.   Because of the doors to the sunroom, the fireplace, the doors to the music room on the left, and the big entry way, it's hard to find a way to make things work.  But I think we've finally found a workable solution for the Christmas season. The chair and round table stick out into the entry a little, but it makes sense in the big picture, I think.
This is our second year here at Harmony Hills.  I'm loving life here in our 91 year old home.  The traditional layout of our home pretty much demands  a traditional approach to Christmas decorating. Which is a good thing, because that's the way I lean anyway.  I guess it's no coincidence, is it?  🙂
Our tree this year is a live Frasier Fir that we cut ourselves on the day after Thanksgiving.   I love having live trees, they just make the holiday feel right!   I've found that if we cut it ourselves and keep it watered, we can make the tree last beautifully the whole month of December.   The years we've bought pre-cut trees, we have had trouble with them drooping and drying up before the season is over.
One of the most fun things about decorating for Christmas is making little vignettes here and there around the house.  Each year, the major pieces of the holiday decorations remain the same, but I love making up new little scenes around the house.  It's a really fun way to exercise a little creativity!
We moved our desk to this corner and I'm loving it here.  It's perfect for writing out our Christmas cards, or writing a letter to Santa.  I bet Santa's cookies and milk will be left here on Christmas Eve.
The clock on the wall is a Harris family piece that we're happy to have here.  The clock mechanism needs some work, but it's a beautiful piece even if it's not a great time keeper.   The Santa on this desk looks vintage but it's just something I picked up at Target probably 10 years ago or so.  I love its old-time feel.

Our mantle this year once again has garland and lights and red and gold balls.
Here's a cozy corner to relax with a good book (or your iPad or Kindle).
The sofa gets a simple switch out of pillows and throw.
This Santa figure is one of my special carvings made by my dad.  He was a hobby woodcarver, and I'm fortunate to have his work throughout our Christmas decor.
See what I mean about the awkward layout of furniture?   The sofa with two end tables sticks out into the entry way to the foyer.  I think adding the arm chair beside the sofa helps define the living room better and makes it less strange to have furniture extending into the entry way.
Of course as I was taking photos, Lulu wanted to be part of the action!  Hannah was much more interested in playing, despite my best efforts to rid the room of all the dog toys.

Thanks so much for visiting us here in our Christmas Living Room.  I hope you're having a great start to your holiday season.
As we head into the month of December, I wish you warmth and love and happiness.
Merry Christmas!
---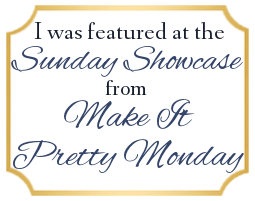 Linking to:
The Scoop – StoneGable
To Grandma's House We Go! – Grandma's House DIY
Wow Us Wednesday – Savvy Southern Style
Celebrate Your Story – Celebrate and Decorate
Christmas Tours Party – Eleven Gables
Metamorphosis Monday – Between Naps on the Porch
Make It Pretty Monday – The Dedicated House